Skycam
Skycam is a Flight Deck Door Monitoring System (FDDMS) designed to comply with the EASA requirements for cockpit door monitoring systems. The standard Skycam kit comprises of a Dzus mounted colour display plus 3 adjustable colour cameras all supplied with an EASA FORM One and an installation package (wiring, connectors, Circuit Breaker etc). In addition to the hardware, Skycam is supplied with an EASA approved modification for most large aircraft types (Boeing, Airbus, BAe, Bombardier etc). The modification pack includes Maintenance instructions, IPC, Continued Airworthiness and installation instructions.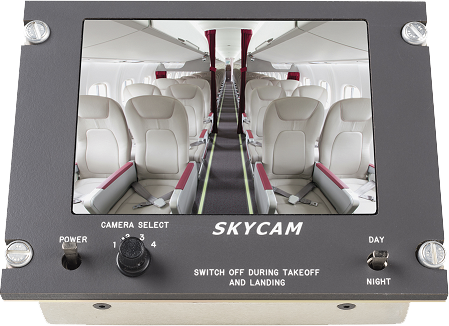 Skycam Cameras
To complement the SKYCAM system we supply various full colour cameras to suit most requirements. These can be supplied separately or as part of the SKYCAM system. Each camera assembly is supplied with an EASA form One. These include:
Universal Camera
Short Universal Camera
Recessed Wall Camera
Angled Ceiling Camera
Infra Red Cargo Camera
Gas Filled External Camera
Design and Certification
Each SKYCAM system is supplied with an EASA approved modification specific for the customer's aircraft, installation kit, technical publications, installation instructions and office based technical support. We can also offer FAA approval for most aircraft types.


Visit the skycam.aero website for more information.